You won't want to miss the limited viewing of The Diary of Anne Frank, the 2009 BBC five part miniseries on Acorn TV that ends on May 31, 2020.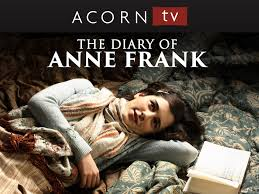 The Diary of Anne Frank starring Ellie Kendrick, Iain Glen and Felicity Jones, faithfully tells the well known true story of teenage Anne Frank and her Jewish family who during World War II are forced into hiding in the Nazi-occupied Netherlands.
I have known the story of Anne since I was a preteen. My father, a Holocaust survivor from Vienna, escaped to New York City with his parents at the age of 9. His grandmother had to be left behind, due to her age and the difficulty of the journey.
I found this sensitive uplifting portrayal of the story impossible to stop watching. It is so well acted and full of the details that give you a real sense of both the constant fear and monotony of eight people living in a confined space, largely in silence, with only a few hours of respite each day.
After watching each episode and returning to my pandemic confined life, I felt a deeper connection to this story than I might have before.
Recommended for ages 11+ by Common Sense Media, take advantage of Acorn TV through the Library.