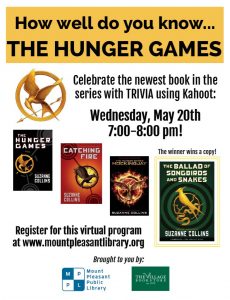 CELEBRATE the NEWEST book in the HUNGER GAMES SERIES with these PROGRAMS and ACTIVITIES!
Hunger Games Trivia: Wednesday, May 20th, 7:00-8:00 pm
Get excited about the newest book in The Hunger Games series with trivia using Kahoot! Bring your knowledge of The Hunger Games series, and two wifi-enabled devices (for example, a computer and a smartphone) to play along on! Lead by Janet from the library and the Village Bookstore! Register here and we will send you a link the day of the event.
The winner gets a free copy of the newest book: The Ballad of Songbirds and Snakes
Looking for more? Try a Digital Escape Room!
Whatever you choose to do, MAY THE ODDS BE EVER IN YOUR FAVOR!