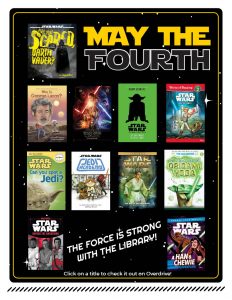 Are you a Star Wars fan? Celebrate May the Fourth with these fun ideas! 
CLICK HERE to see the full version of the poster above. Then CLICK on each book to check it out on Overdrive!
Try any page in this great Star Wars Activity Book!
Print out this page to create your own Star Wars Puppets!
Visit this page to make Story Characters using recycled toilet paper rolls!
Try one of these delicious Star Wars themed Recipes!