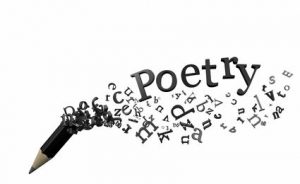 April is National Poetry Month, a time to celebrate the unique art of poetry.
These distracting days might be the ideal time to rediscover, or even to discover, poetry.  There are so many different forms of poetry: Sonnets, epics, odes, limericks, ballads, haikus, pastorals, elegies, villanelles, blank verse, free verse, rhymed, lyric, and soliliquies, to name the most enduring. (If you are interested in more  detail about each form, go here to learn about them).
I studied John Keats in depth when I was about 15 (not in the U.S.!) and I always loved his Ode to a Nightingale. It's just so melodramatic and full of angst, probably just what I was like in high school.
"My heart aches, and a drowsy numbness pains
         My sense, as though of hemlock I had drunk,
Or emptied some dull opiate to the drains …."
If you like the drama, you can read more Keats
here
, through Overdrive.  He also writes poems to urns.
John Milton is another poet I studied back then.  He wrote the epic poem written in free verse,
Paradise Lost
, in 1667.  The poem is compiled into ten books with over 10,000 lines of verse.  We only studied Book One, thank goodness.
And while I'm on the subject of old poetry, Shakespeare was a master of the sonnet, a poem of fourteen lines using any of a number of formal rhyme schemes.  Sonnets are often, but not always, about love. Read some for yourself through our online collections,
here
.
Here is Shakespeare's Sonnet  #116:
Let me not to the marriage of true minds
Admit impediments. Love is not love
Which alters when it alteration finds,
Or bends with the remover to remove.
O no! it is an ever-fixed mark
That looks on tempests and is never shaken;
It is the star to every wand'ring bark,
Whose worth's unknown, although his height be taken.
Love's not Time's fool, though rosy lips and cheeks
Within his bending sickle's compass come;
Love alters not with his brief hours and weeks,
But bears it out even to the edge of doom.
If this be error and upon me prov'd,
I never writ, nor no man ever lov'd.
All of your library's online resources have plenty of poetry for you to peruse.
Overdrive is loaded with Poetry.  For example: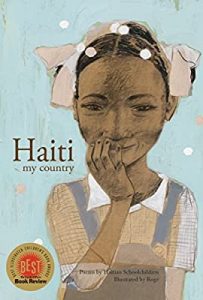 Teenage poets find their inspiration from the portraits of Haitian children in Haiti my country, by Rogé
Or,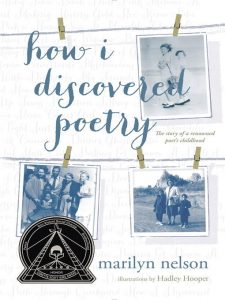 How I Discovered Poetry by Madeline Nelson, a thought-provoking Civil Rights era memoir from one of America's most celebrated poets.
Hoopla, too, has many poetry selections:
81 Famous Poems written and read by various poets.
Simply search "Poetry" in the search bar; select a title; listen or read and be inspired.
And here are three Haiku (a short form of Japanese poetry) written by our very own librarian, Susan Chajes:
Plastic gallon jug
           is buffeted by the wind
                bouncing down the street
Flowering branch flies
plucked by a stealthy black bird
to impress its mate
Heron in my yard
      it's hard to imagine it
 diving to catch fish
Any poets out there? There is no better time than now to express yourself with poetry. Kids, Teens, Adults: if you have something to share please send your short poem to us by email – abrandenberg@mountpleasantlibrary.org. We will post a selection on our Facebook page throughout the month of April!  If you are interested in writing Haiku and don't know how, you can find the instructions here.