Sometimes there is nothing better than homemade pizza. It's not hard and you don't have to leave your house (once you have the ingredients). Here's how I do it:
*Start the dough about 2 ½ hours before you want to eat the pizza.*
Dough:
In the bowl of a mixer (or mixing bowl if you don't have one), combine: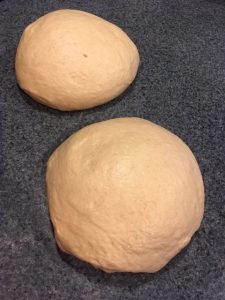 1 ½ cups warm water
2 Tb sugar
2 ¼ tsp active dry yeast
Let sit for about 5 minutes
Add:
4 cups flour (you can use part white and part whole wheat or just go with the white)
1 Tb salt
3 Tb olive oil
With a dough hook (or by hand), knead for about 10 minutes. Add more flour if it's really sticky. It should be elastic and only slightly sticky at the end. Roll into a ball and put it in an oiled bowl. Cover with a plastic bag or equivalent and let rise in a warm place until doubled. This usually takes about an hour or so. After that, punch down the dough and form into two balls. Put the balls on a floured surface and cover with the bag again. Let rise for about 45 minutes.
Sauce:
While the dough is 
rising, prepare the sauce. I admit I've never bought a jar of sauce before but a while back I found this can of Marinara Sauce at Trader Joe's and it's tasty and easy. If you want to, throw in some dried oregano and crush some garlic in there. Also add 2 TB or so of tomato paste to the sauce and a little olive oil. Alternatively just use crushed tomatoes and add garlic, salt, oregano, basil, pepper, tomato paste and olive oil. Or use a jar. Whatever you use, simmer until thickened slightly. Just be creative and make sure the sauce tastes good to you.
Mozzarella:
Grate a pac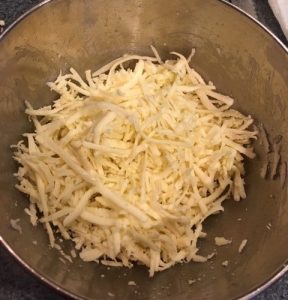 kage of mozzarella into a bowl and add one tablespoon of olive oil. This makes it better. I can't scientifically explain why but it's just better.
Toppings:
Whatever you want. Be creative! In my photos you will see two pizzas. One is basically a margarita pizza with some sliced mushrooms. The other has ham, pineapple, basil, and some bacon (because I had to use it up).
The pizza can be baked on a stone, on a special pizza pan (the kind with the holes), in a deep dish pizza pan, or on a baking sheet. You could also grill it on a gas grill and then you won't need a pan at all. I used a stone and a pizza pan so these are the instructions I will give you. Turn on the oven to 550 degrees. If you have a pizza stone, put that in the cold oven. When the oven is preheated, shape the dough. Shape it with your hands, roll it with a rolling pin, throw it in the air, or whatever you want to do. But be careful with the dough because you don't want holes in it. It's nice if you can get it fairly think so it's not too doughy. Unless you like doughy. Use flour to prevent sticking on the counter.
Put the dough on the stone or in the pan. Top with about a cup of the sauce. Add toppings of your choice and pop in the oven. After 5 minutes sprinkle the top with the grated mozzarella and then baked until the crust is light brown and the cheese is nice and melted – about 10 minutes more. When the pizza is done you can sprinkle some chopped basil on top. And then eat it!!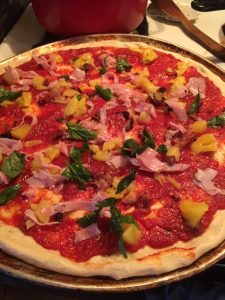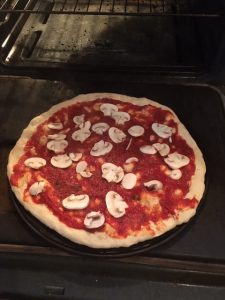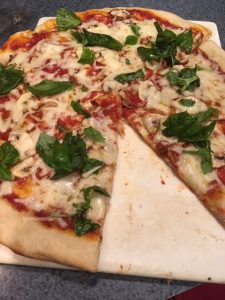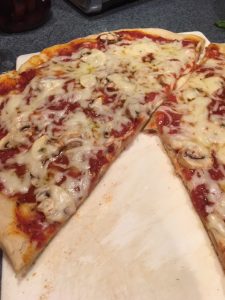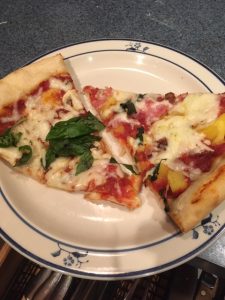 If you have any questions about making pizza, please send me an email at abrandenberg@mountpleasantlibrary.org